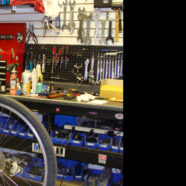 The Bike Shop staff has over 30 years experience repairing bikes of every make and model.  Our shop is fully stocked with parts so we can repair your bicycle in a timely manner.  Here are some common bike repairs we perform:
Flat tire
Bike chain slipping or skipping
Brake adjustments
Here are some bike adjustments we can do or show you how to do:
Adjust the seat up for taller child
Tighten or loosen the brakes
Replace the bicycle seat with a new one
Lube the chain
Check the tire pressure
Add or remove training wheels
Remember, if you purchased your bike at The Bike Shop, we will service and repair it free for two years.